Repairing Gas & Water Lines in Austin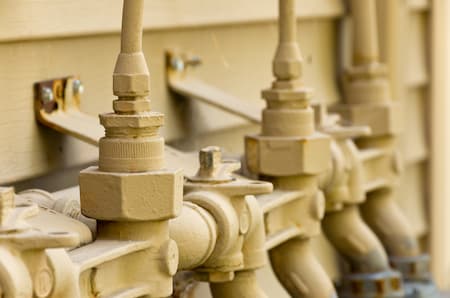 Moore & More Plumbing, LLC is the name that you need to know for repairs and replacement of local gas and water lines in Austin. We are a family owned and operated service provider and we are dedicated to the satisfaction of our customers. There is no reason to settle for less than the best when it comes to the work that goes into any aspect of your plumbing system.
We can tackle installation, inspections, repairs and replacement. This is not the type of job that should be left to just any self-proclaimed industry "professional." It is important to work with a reputable and established expert with hands on experience with this type of work.
Not to mention, the crew you choose had better have a current license. Don't take chances when it comes to the level of quality that goes into this service. When you are in need of a pro to handle any of your gas or water line work, you can count on us.
Austin Gas & Water Line Experts
Water or gas lines can become damaged or break, for a number of reasons. Tree roots, ground settling or even just time can take their toll on this system. However, the last thing that you want to do is find yourself in a position in which you need expert work but do not know who to call upon.
Here are some things to keep in mind about these lines:
You should already have a trustworthy expert in mind to call on in case something goes wrong. The bottom line is that you are going to need this type of service eventually. So why not already have done your research to find just the right Austin plumber for the job?
Leaks in either gas or water lines can be dangerous. For gas, obviously, there is the threat of fire or an explosion. For water there is the potential for flooding and electrocution. It is important to be able to act fast and this is not the time to be conducting phone interviews with potential plumbers.
Basic homeowners insurance may not cover this type of work. So it is a better idea to have these lines inspected on a regular basis so that you can keep them in check. It is better to conduct preventative maintenance than to have to take care of emergency repairs and replacement.
Professional Service For Gas & Water Lines in Austin
Moore & More Plumbing, LLC is the name that you can trust in for exceptional plumbing services in Austin for all facets of the plumbing industry. This includes professional service for gas and water lines in Austin and nearby. So if you even suspect that you may be in need of this type of work, give us a call right now.